Supreme International Education Pvt. Lte. is a Singaporean based company, which has expertise in providing quality education and its practice methodologies.
The parent company was initially named Supreme International School (SIS), which was founded by Mr. Alexander Hahn in Berlin in the year 2011. The operative business was taken over by Mr. Thomas Pallushek who brought to the organisation know-how and experience in franchise development.
During this time, there coexisted Birthly Consultancy PVT LTD, which was successfully working as a distributor in teaching consultancy, with its clientele in Asia Pacific.
Supreme International School and Birthly Consultancy PVT LTD., formed a collaboration and are currently working under the banner of Supreme International Education Pvt. Lte., in Singapore.
The decision for relocation was in the interest of the company's vision of providing quality education and since Germany as well as Singapore are well known for their excellence in the field of education, the new setup seemed promising. In this new setup, SIE became a licensor for international school concepts headed by Mr. Dinesh Ramaraju (Chief Executive Officer SIE). Since 2012, Mr. Pallushek took over the role as an Advisor.
The main focus of the consolidated business is to create awareness in the educational environment about the advantages of an enhanced educational system from Europe: the inter-year, bilingual and project-oriented education.
In this context, teachers can apply for getting qualified as "Junior, Senior or Executive Teacher" or even as "Teacher's Coach" as per the requirements of SIE standards.
Since 2012, German International School Chennai, India has been functioning as a "Role Model School" in India
In 2013, SIE established an ongoing academic exchange with German and European based Schools and Universities.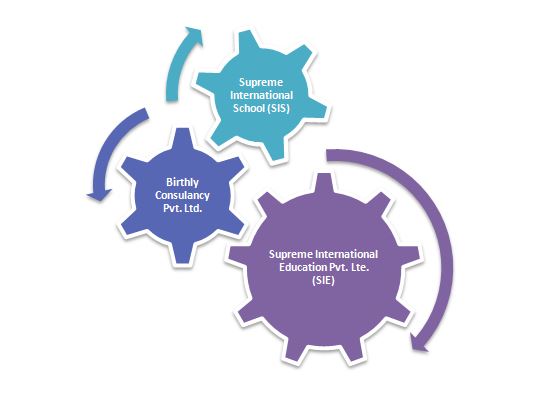 In 2014, in cooperation with the Educational Ministry of Tamil Nadu, SIE held the first batch of Teacher's Training to Corporation Teachers out of which 29 teachers have successfully participated the first out of in total five modules. Continuation of further trainings are in planning.